12th – 27th January 2013
Opening: Saturday 12th 6 p.m.
Closing: Sunday 27th 5 p.m.
Duochromia (Ana Pérez Ventura, piano & Laura Gaya, violin) will be playing music. During the opening they will perform and explain several "études" in connection to the exhibition. During the closing there will be a more playful music time.
Maison des Étudiants Suédois
Cité Internationale Universitaire de Paris
7, Boulevard Jourdan, 75014 Paris (France)
http://www.macite-u.com/vernissage-et-piano-ana-perez-ventura/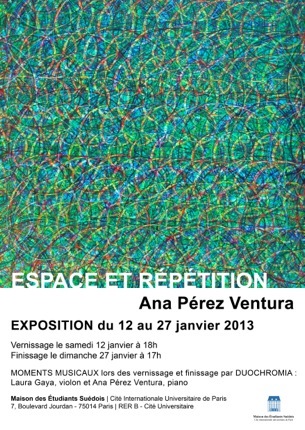 Read here the article about the exhibition appeared in ABC (in Spanish)